Hand & Wrist
Comprehensive Care for Hand and Wrist Conditions
You use your hands and wrists for many tasks every day. When you have pain or limited motion, your activities and livelihood can suffer, too. Because of the complex networks of nerves, blood vessels, muscles, and tendons, the hand and wrist are a specialized area of medicine.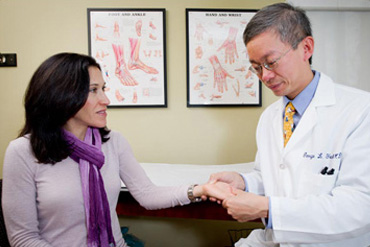 Experienced and Skilled Experts
Trust your care to Potomac Valley Orthopaedic Associates's board-certified and fellowship-trained orthopedic surgeons who are recognized leaders in their specialty. They are dedicated to using the latest, safest, most effective and least invasive treatments for hand and wrist problems.
Personalized, Comprehensive, Prompt Care
We understand that every patient is different, and you need and deserve a treatment strategy customized just for you. During or after your initial office visit, we will use various state-of-the-art diagnostic tools to get at the root of your problem and then develop the right treatment strategy for you.
Whenever possible, non-surgical treatment options are used before considering surgery.
Non-surgical Treatment Options
Physical therapy and exercise
Non-steroidal anti-inflammatory drugs
Corticosteroids (injections and medicine)
Bracing or Slings
Lifestyle modification
If surgery is necessary, we take the least invasive approach possible, including arthroscopy.
Injuries and Conditions
We specialize in all hand and wrist conditions and injuries, including:
Sprains and Strains
Cubital Tunnel Syndrome
Osteoarthritis
Numbness and tingling in the hand and upper extremities
Hand or Arm Pain